Custom Cutting
Not all labels are compatible with the choices offered. We have converting machines available and waiting to create a unique size magnet for your warehouse or stock room. We can handle any quantity and do our best to keep our minimums low, our prices competitive and lead times within your time frame.
Standard vinyl colors available if you are looking to organize, prioritize or optimize your space or workflow. They are: Yellow, Blue, Black, Orange, Green and Red.
Adhesive specifications: Our industrial strength adhesive is geared towards general use. It is a permanent adhesive and like most adhesives require time to complete the bonding cycle. Applications where heat, humidity, weight or surface textures exist, adhesives with aggressive bonding may be required. Let our sales staff help determine which is best for your application.
In order to provide pricing for a custom size, we will need to know:
Quantity
What size magnet or label are you trying to fit.
Finishes – Plain, Adhesive, White vinyl or Color
Scored and left in roll form or individual pieces
Deadline
Custom Vinyl Envelopes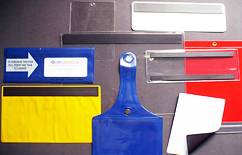 Vinyl envelopes are durable, functional, versatile and the perfect choice for merchandising items on the retail floor. Display and protect signage in instances of Special Sales, Price Points, Product Features, Data and much more. They provide protection from excessive handling, readability with a clear vinyl window and mounting options for hanging, sticking or attracting to metal surfaces. We have worked with many industries to create custom vinyl envelopes and there are no limits to their applications.
Mounting options: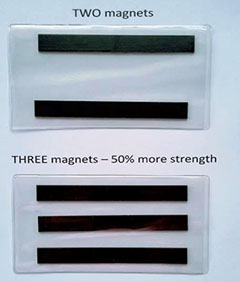 Hole(s) to hang
Magnets to attract to metal surfaces
Adhesive for permanent placement
In order to provide pricing for a custom size, we will need to know:
Quantity
The size of your insert
What mounting method is required
Deadline
Custom Printed Magnets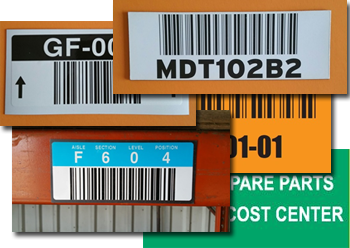 Let Label Magnets help you with your custom printed magnets for the warehouse, stockroom or office. We can supply durable labels already applied to magnets or create a unique magnetic label or sign with our full digital printing capabilities.
Flexible magnetic labels are a versatile and reliable system creating an efficient and organized warehouse and stockroom.
Because most clients have a unique size, color and variable data please call our sales department for additional help in getting you a custom printed magnet. sales@labelmagnets.com